Accessible Transportation
Opportunity Link led a 2007 planning effort that established four new rural transit systems and expansion of one existing system: North Central Montana Transit (NCMT, in Hill and Blaine Counties), Fort Belknap Transit (at Fort Belknap Indian Community), Rocky Boy's Transit (at Rocky Boy's Indian Reservation), Northern Transit Interlocal (NTI, in Toole, Pondera and Teton Counties) and Blackfeet Transit (Blackfeet Indian Reservation) to expand its service area. OL secured technical assistance from Western Transportation Institute, as well as local community match and/or start-up funds to help establish these systems. OL currently administers NCMT, which coordinates fixed-route bus services with Fort Belknap and Rocky Boy's shuttles across 100 miles of frontier terrain.
In July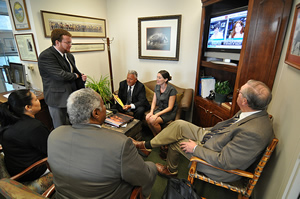 2010, Opportunity Link is the recipient of two 2010 Transportation Planning Excellence Awards by the Federal Highways Administration and the Federal Transit Administration for Planning & Leadership and Tribal Transportation Planning. In May 2010, Opportunity Link/North Central Montana Transit received a Letter of Commendation for Outstanding Innovation for Public Transport by the International Association of Public Transport.
North Central Montana Transit is a public transportation system designed to serve the Hi-Line communities of Hill and Blaine counties and surrounding communities as well as to provide coordinated services with Fort Belknap and Rocky Boy's Transit systems.
NCM Transit is operated by Opportunity Link, Inc. and was established in partnership with North Central Montana area organizations including local and tribal government agencies, social service organizations and educational institutions.
Contact North Central Montana Transit directly at:
3152 US-2, Havre, MT 59501
(406) 265-4762