North Central Montana Transit
North Central Montana Transit is a public transportation system d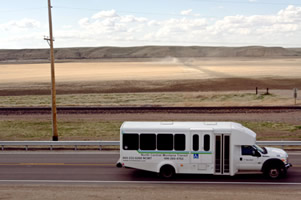 esigned to serve the Hi-Line communities of Hill and Blaine counties and surrounding communities as well as to provide coordinated services with Fort Belknap and Rocky Boy's Transit systems. NCM Transit is operated by Opportunity Link, Inc. and was established in partnership with North Central Montana area organizations including local and tribal government agencies, social service organizations and educational institutions.
On demand services (with-in city of  Havre) Mon-Fri 9:00a.m. -3:00p.m.  24 hour advance call (406) 945-1258
On demand services M-W-F to Great Falls departure from Havre at 9:00a.m. and departing Great Falls at 1:05 p.m.  Connects in the morning from FT. Belknap and Rocky Boy routes.  To request a reservation for service call NCMT at least one day in advance for in-town rides and 2 days in advance for Great Falls rides.
Same day reservations will be accepted on a space available basis.  On-demand is a shared ride and space is limited.  Not all times will always be available. Messages may be left on the answering machine provided you leave your Name, number of riders, Pick up location and destination and a valid call back number. Contact North Central Montana Transit directly at: 3152 US-2, Havre, MT 59501 (406) 265-4762 Like NCMT on Facebook